Horry Henry: Attack on Bashtoun is a video game released in late 2016 for the 3DS, PS4 and PC. It will get a Nintendo Switch port in mid 2017, as well as a future remaster release for the PS4 and a Nintendo Switch collectors edition with no announced release date.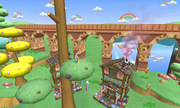 Similar to the Mega Man series, players take control of Horry Henry who can run and shoot as well as sliding and jumping.
Ad blocker interference detected!
Wikia is a free-to-use site that makes money from advertising. We have a modified experience for viewers using ad blockers

Wikia is not accessible if you've made further modifications. Remove the custom ad blocker rule(s) and the page will load as expected.